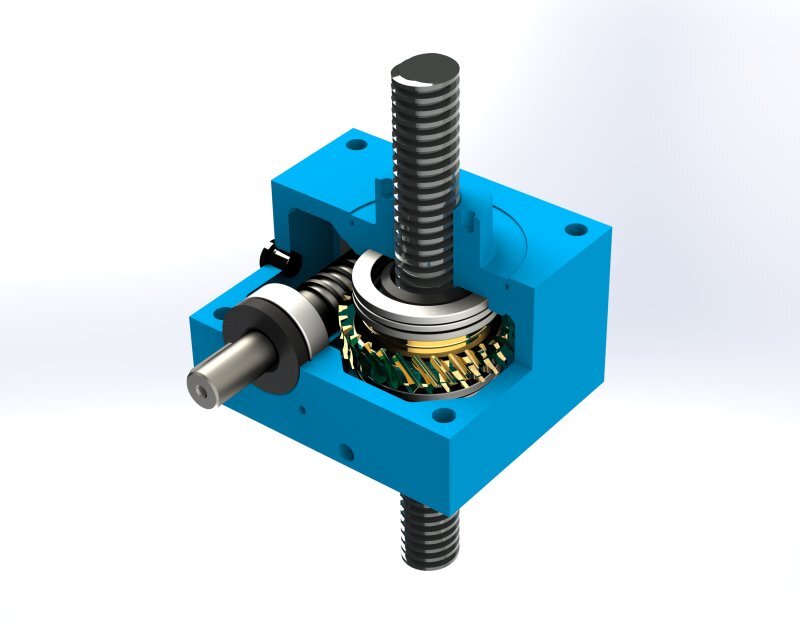 A Fresh Approach to Trapezoidal Gearbox Design
When you need to move a heavy load with a high degree of accuracy and safety, a trapezoidal screw jack is hard to beat. Because trapezoidal screw jacks are a well-established technology with an enduring design, you'll find many high-quality units to meet your basic design needs.
While it's easy to assume there's no difference among the many available products, not all screw jacks are created equal. If you require optimal performance and orientation flexibility, it pays to consider an innovative and new trapezoidal screw jack design.
The Drawbacks of Traditional Screw Jacks
The traditional screw jack design consists of a metal plate supporting a rounded gearbox with a trapezoidal screw on top. Although this design is well-established, it has a drawback: To install the gearbox, it must connect directly to the metal plate, and you must specify the screw jack's orientation based on whether it will be subjected to a compression or traction load. The flanged design also presents a potential weak point where the metal plate connects to the round section of the gearbox.
Explore Screw Jacks With Square Designs
For more orientation flexibility, consider a less conventional but more innovative design. One such design not only offers orientation flexibility, but also exceptional sturdiness and easy installation. Characterized by a square shape and six machined surfaces, it allows the screw jack to be installed in multiple configurations. UNIMEC trapezoidal gearboxes feature this square design with through-holes that allow top-to-bottom installation, as well as side installation.
A pair of collars — each with identical integrated bearings and equal load capacity in both directions — guide the spindle and eliminate the need for specifying the load direction and operating configuration. This innovative dual-guide and dual-axial bearing concept also provides inherently more precise motion since the spindle is guided by two points instead of one. The result: a single system for all configurations.
In addition to providing orientation flexibility, UNIMEC trapezoidal screw jacks are built to last, with completely machine-finished outer surfaces and components made from high-quality, traceable and certified materials, including EN-1982-2017 aluminum bronze for the most demanding applications. In addition, we certify our screw jacks using a full roster of in-house test equipment that replicates the application. These advantages, combined with superior manufacturing processes, ensure reliable performance over a long lifetime — even in the most demanding environments.
For more information on UNIMEC trapezoidal screw jacks, download our white paper.