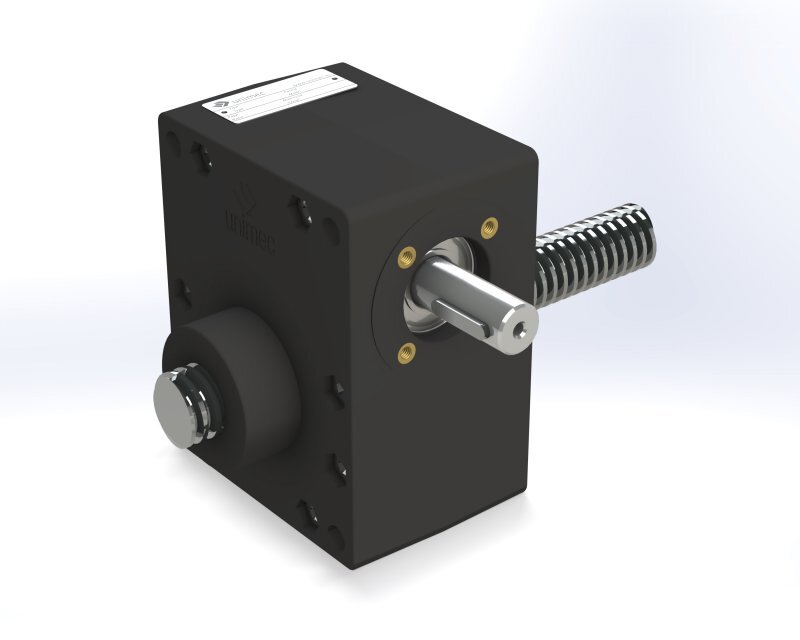 Trapezoidal Screw Jacks: Materials and Manufacturing Make the Difference
While there's little variation among the materials used in screw jack construction, some materials may be more appropriate than others. The material is also closely related to how the screw jack components are manufactured. In fact, high-quality materials, combined with superior manufacturing processes, typically produce the best-performing screw jacks.
Here's a summary of the various materials used in screw jack construction, their characteristics and some of the manufacturing factors that can distinguish a high-performance unit.
Gearboxes/Frames
Machined aluminum. This material is commonly used for smaller units due to its heat dissipation properties, good durability and high tensile strength.
GJL cast iron. Well-suited for mid-size frames, cast iron offers excellent rigidity, durability and good damping characteristics.
Electro-welded S355 steel. Carbon manganese — a non-alloy steel — features high strength and excellent weldability for large units and demanding applications.
Technopolymer. An advanced, cost-effective technopolymer boasts a variety of advantages.
Screw Jacks and Bevel Gear Reducers
AISI 316 stainless steel. This widely used stainless steel offers good corrosion resistance and excellent defense against salinity, as well as good tensile strength at both low and high operating temperatures.
Internal Gears and Worm Screws
Tin bronze. This material can resist wear and offers some corrosion resistance, good machinability and low- to medium-load capacities.
Aluminum bronze. With higher tensile strength and greater wear resistance compared to generic tin bronze, UNIMEC's aluminum bronze complies with EN-1982-2017 standards. It also obtains its properties through permanent chill mold casting manufacturing, which creates gears with a finer, more homogeneous microstructure and inherently more accurate coupling with other gears. It also offers higher reliability over time, a longer life, plus quiet operation and excellent sliding properties.
Case-hardened steel. This material is known for its ability to withstand heat treatments with minimal deformations. Worm screws made from case-hardened steel exhibit greater wear resistance and exceptional structural consistency. When a case-hardened worm screw is cemented and precision-ground, it couples precisely to the worm wheel and is more durable.
Spindles
C45 steel. This medium-grade carbon steel is typically more cost-effective than alloy steel. AISI 316 stainless steel. (See above.)
Depending on the size of the spindle, both C45 steel and AISI 316 stainless steel can be manufactured by cutting or thread rolling. While cutting typically offers good precision, as well as the ability to manufacture special threads, multiple starts, left-threaded spindles and other features, it often results in higher surface roughness. Thread rolling, on the other hand, produces a smooth, high-quality surface.
UNIMEC's 3-Die thread rolling not only produces a smoother surface than cutting, it creates a more rolling-friendly thread surface with quieter operation, reduced wear and better longevity.
Learn More About Trapezoidal Screw Jacks UNIMEC trapezoidal screw jacks feature a square design with a dual-guide and the dual-axial bearing concept for reliable, accurate operation without the need to specify load direction. This radically different design, along with our superior manufacturing processes using certified, traceable materials, results in optimally performing screw jacks.
To learn more, download our white paper.